Opulence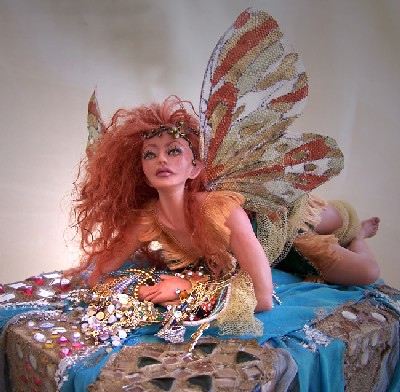 One tends to think of faeries as woodland folk. I wanted to try something different and in doing so, I created Opulence.
The faerie has been hand sculpted WITHOUT the use of any molds. She is truly "one of a kind" (OOAK) and will never be repeated. No mold or impression has been taken from her so duplication will be impossible. She has been made using a blend of several different polymer clays, including some gold clay which has given her skin tone a wonderful glow. I have used a strong wire armature for durability. Her skin tone and facial features have been hand painted in several layers of oil paint.
Her outfit is created from silk which has been carefully draped to enhance her pose. Gold beads and other decorative accents complete her ensemble. Her wings are from mixed materials and have been hand painted. One can pose the wings carefully if necessary, but this should not be required.
Her hair has been created from Tibetan mohair and is a rich auburn shade.
The base she rests on has been embellished using glass mosaic. The grout between the mosaic is filled with finely powdered white agate which has been dyed gold. Silk fabric has been draped over her base to further bring out the opulence of the piece. The faerie has been posed on her base guarding a stash of jewelry and coins.
I have arranged her jewelry after placing the doll on the base and draped some over her arms. As the base and doll will be packed separately, I will include the jewelry in a separate bag, so that you can arrange it as you deem fit, after you have placed her on her base.
As you can see, I have used the finest materials and much care has gone in her construction.
The faerie is 7 1/2 inches long and 3 1/2 inches high in her lying pose. Her base is 10 inches long and 4 1/2 inches high.
To see more detailed pcitures of her, please click on one of the images below, after which a new window will appear with a larger picture.
SOLD